Southeastern Mass Canary Club
The Club
Located in Fall River, Massachusetts, the SEMCC membership has evolved to include breeders and exhibitors of Type Canaries, Colorbred Canaries, and Mules and its membership has expanded to residents of the United States, znd Canada. Meetings, held in the southeastern Massachusetts area, have allowed members to plan for the fall show, share experiences, and enjoy a social gathering.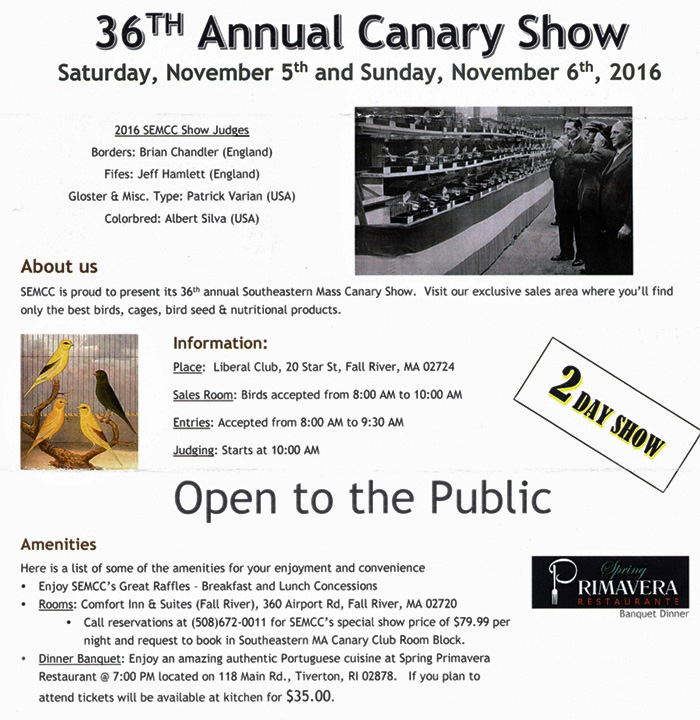 SEMCC is proud to annouce that it will be hosting its 36th Annual Show on Saturday, November 5 and 6, 2016 at the Liberal Club 20 Star Street, Fall River, MA 02740.
We are looking forward to holding a two day show which will offer both the exhibitors and the public an opportunity to see the show and the birds.
The liberal Club location which provides more space and great parking is conveniently located off a main highway.
Hotel Accomodations are available at the Comfort Inn & Suites, 360 Airport Road, Fall river, MA 02720.
For more information about the show, classifications and hotel accomodations (cutoff dates for club rate) go to the show Page.
Our History -Remember the SEMCC "Swansea" Show Click Here